Premium Cashmere For Sale
Cashmere is the fine down produced by cashmere goats, having the feel of a cloud running through your hands and warmth with incredible lightness. Considered the world's luxury fiber, under international law cashmere has to be very fine, crimpy, and consistent. Springtide Cashmere, a premium quality cashmere, is tested in the lab annually, and also has to have a minimum length to ensure a final product that will not pill and that will last many years.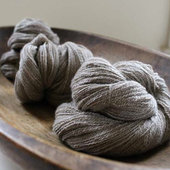 Cashmere 2 ply Lace Weight
Springtide's most popular weight, the 2 ply yarn has 200 yards to the ounce. One ounce will knit up a gorgeous lace scarf, and it is available in a variety of organically dyed colors as well as the natural colors that come directly from the goat.
View All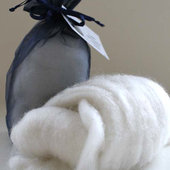 Cashmere Roving
The hand spinner will delight in spinning this soft and luxurious fiber. It comes in a variety of natural colors.
View All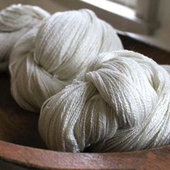 Cashmere 3 ply Fingering Weight
This 3 ply yarn is approximately 132 yarns to the ounce, and will create incredibly soft and warm hats, scarves, sweaters, and anything else that the knitter is looking for in a sport weight premium cashmere.
View All